Research has shown that 300 mg of ashwagandha twice daily for eight weeks helped study subjects reduce stress, improve memory and reduce food cravings.
1. Ashwagandha (Withania somnifera) is a member of the solanaceaae (nightshade) family of flowering plants and a staple in the traditional Ayurvedic system of medicine. It is commonly called Indian ginseng or winter cherry, but "ashwagandha" literally means "smell of horse," since the herb's fresh roots smell like horse, and ancient lore holds that one who takes the herb extracts may develop the vitality and strength of a horse.
2. It has multiple rejuvenative effects on the human body, and thus is also referred to as a "royal herb."
The botanical is multipurpose in nature and acts on different areas of the body, such as the immune, neurological, endocrinal, energy-production and reproductive systems.
3. After eight weeks, adults treated with 300 mg of ashwagandha (as KSM-66 from Ixoreal Biomed) twice daily demonstrated significant improvements in both immediate and general memory.
4. Stress is accompanied by increase in serum cortisol levels. Ashwagandha, being an adaptogen, is known to promote homeostasis and reduce serum cortisol level. A study found KSM-66 Ashwagandha at 300 mg twice daily for eight weeks caused noticeable decrease in perceived stress among healthy subjects by 44 percent from the baseline, which was statistically significant compared to the placebo group.
5. In a rat model of chronic stress syndrome, ashwagandha and Panax ginseng extracts decreased the frequency and severity of stress-induced ulcers, reversed stress-induced inhibition of male sexual behavior and inhibited the effects of chronic stress on retention of learned tasks.
6. Chronic stress is frequently accompanied by increase in serum cortisol and food cravings, and a decrease in dietary control and mental well-being, which are all associated with weight gain. Taking KSM-66 (300 mg twice daily) for eight weeks produced a nearly 33 percent reduction in perceived stress scores from the baseline compared to placebo group.
What's the REAL problem with Ashwagandha?
Eventhough Ashwagandha comes with a laundry list of incredible health benefits:
Supports Healthy Thyroid Function
Promotes a Calm State of Mind
Improves Mood and Energy
Boosts Memory and Supports Brain Health
Strengthen Immune Function
It has *one major flaw*.
The major flaw of Ashwagandha is bioavailability.
The body has a hard time absorbing Ashwagandha Powder, which makes bioavailability a HUGE issue! Bioavailability is the amount of a substance that enters your bloodstream. More bioavailability means you actually get the health benefits you're looking for. But less bioavailability? That means you're wasting money.
Essence Roots has discovered a unique, yet simple way to make Ashwagandha more bioavailable than ever.
Along with giving us superstar nutrients like ashwagandha, Mother Nature also provides us with helper nutrients. These helper nutrients take a good thing and make it even better. Scientists call these Bioavailability Enhancers, and new research points to piperine as being the most effective on the planet. Ultra Ashwagandha comes in a veggie capsule packed full of piperine, making it the most bioavailable Ashwagandha money can buy!
Special Offer
Today Ultra Ashwagandha by Essence Roots is running a 50% off promotion. The more bottles you buy, the more discount you get. So don't wait until its too late, take advantage of this incredible offer now. Don't forget to come back and let us know about your results!
Simply click on the link bellow to claim your deal.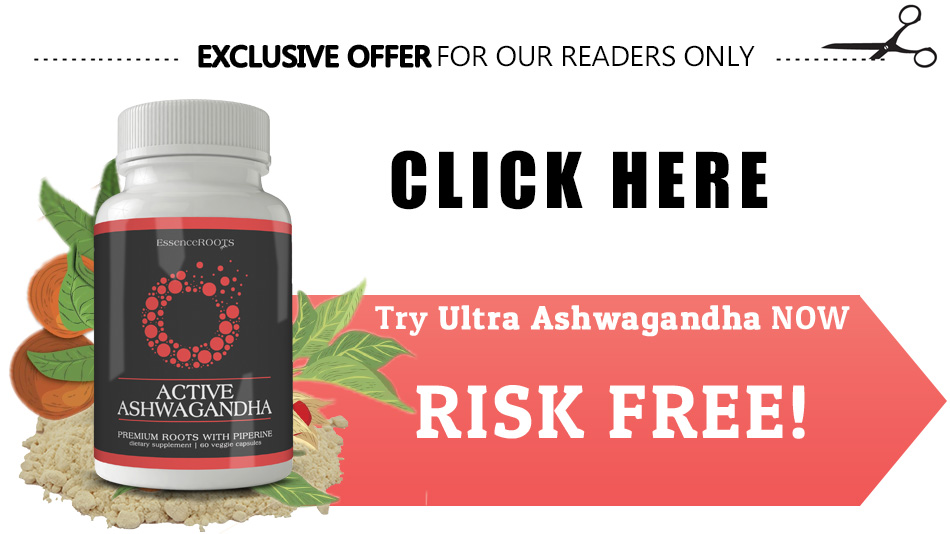 This is a one time purchase with no hidden additional cost or obligations.